We know, you're saying to yourself all the time: why haven't Tom and Dori blogged more? Or posted on Facebook more? Or even tweeted more? (And you are all saying that, right? Right?)
So here's the deal: if you want to hear more from us, say so by voting for our sessions in the SxSW 2011 Panel Picker.
We've pitched two sessions: When Your Partner Is Your Partner and So You Wanna Write A Tech Book?. On paper, the former is listed as Tom's session and the latter as mine, but the reality is that they're both us (along with anyone else we can dragoon into participating).
I believe you'll need to register before you can vote, but you don't have to necessarily be planning to attend to register (although you should go—it really is Geek Spring Break and a helluva lot of fun).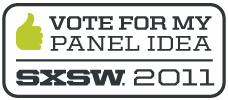 When Your Partner Is Your Partner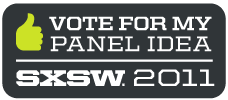 So You Wanna Write A Tech Book?
You have a proposed panel too? Great! If you want us to vote for your panel, just ask—but just so you know, here are my personal showstoppers; if your session description includes any of them, don't bother:
References to post-pubescent females as "girls"
References to "your mom" or "your grandmother" as shorthand for non-technical people
Social media marketing gibberish (i.e., new media douchebags need not apply)
Any "hey, there's this brand-new hot topic you should know about!" panels, when the topic itself is over 5 years old
Panels where the participants obviously know less about the topic than we do and it's not even in an area where we claim expertise
And so on…
But I know that none of you would propose anything this weak, so let us know what you've got planned. And of course, if you think that one (or both) of us would be a good addition to your panel, we're all ears.
See you in Austin!